Diwali is the celebration of light. On this day we explore our inner lights over the darkness with millions of Diyas in everyone's home. In India, we celebrate Diwali after Bhoot Chaturdashi, when we devote our homage to our ancestor's fathers with 14 Diyas, candles, or other light works. Colorful rangolis, torans, Diyas, and firecrackers make the vibes of Diwali. Diyas or candles are the souls of Diwali. This celebration is called Diwali because Hindus, Sikhs, Jains, and many other community members lit up Diyas or clay lamps in rows or avalis on balconies, door gates, pavement channels, and others. For millions of years ago, there has been a Diwali celebration to celebrate myriads of mythological aspects. With advancements in technology, science, and medical sciences Diwali becomes a part of environmental safety too. Now we are going to discuss why we celebrate Diwali every year with august pomp.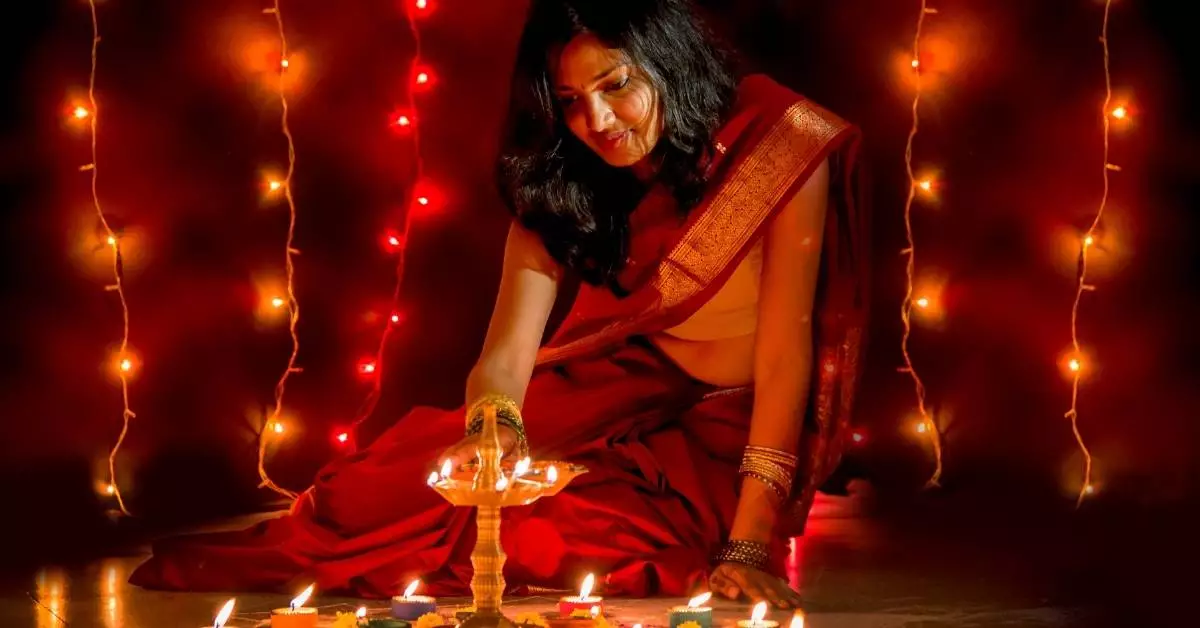 Indian mythology behind Why We Celebrate Diwali
On this day, Ram and Laxman with Sita Devi returned from exile after 14 years, conquering the fight with Ravana , to celebrate their victory over the darkness of evil power, Ravana. Still, on such a day it was the night of the new moon. To celebrate that day, peoples in Ayodhya light up candles and Diyas. Till now its celebrate with chanting of Navaratri for 9 days to worship Goddess Durga.
Naraka Chaturdashi
Except in Kerala, in all other states, people celebrate the second day of Diwali to celebrate the killing of the Narakasura. This was done by Satyabhama, Lord Krishna's consort. On that day, thousands of girls escaped from captivity in Narakasura. To celebrate such a victory, people celebrate Diwali. From this aspect, this day is also called Naraka Chaturdashi.
Dhanalakhsmi Puja:
In West India, it's the myth that on the new moon day of Kartik month, Devi Laxmi comes to this earth after churning of cosmic ocean milk by Gods and Demons. On that day, Devi Laxmi married Narayana. To celebrate such an auspicious event, people perform Laxmi puja on this day. Peoples trust that, after this Laxmi puja, all the devil powers vanished from home.
Kali puja:
In East India, Assam peoples worship the fierce avatar of Devi Durga, Kali puja with great pomp. Here the goddess is black as the metaphor for black power removing energy. In Assam, West Bengal Kali puja is a big festival just after Durga puja.
Nirvana Celebration:
Not only are these people but also in Jainism, there a great impact on Diwali. On this day, the Lord, Mahabir Jain achieved Nirvana on Oct 15th. To celebrate such a victory of wisdom over ignorance, the Jain peoples celebrate Diwali.
Bandi Chhor divas:
For Sikh people also Diwali is a great day when the sixth Guru Hargobind, gets escaped from British captivity, by Jahangir. To celebrate such freedom, Sikh peoples still celebrate Diwali with their firecrackers, lighting, and others. This day is celebrated as the Bandi Chhor divas.
In this manner, all the people across the country start to color their minds with firecrackers, candles, Diyas, and others. These rituals are also connected with food styles. Some people of West Bengal, Assam, Odisha, and others eat 14 types of vegetables on this special day.
These are mythological stories behind the Diwali celebration. Keeping in mind all of these mythological aspects, people from different provinces celebrate 5 days of Diwali with light, color, firecrackers, fine cloth wearing, party making, and others.
Why is Diwali celebrated in 5 days?
Dhanteras:
It is the first day of Diwali. It is performed with Laxmi puja with Gold coins, newly sowed rice, wheat plants, and many other things. To receive the offerings and blessings of Devi Laxmi, many women purchase Gold, silver ornaments, kitchen equipment, and others. It's the ritual to review Devi Laxmi's offerings across the year.
Choti Diwali or Narak Chaturdashi:
After Dhanteras, it is Choti Diwali or Narak Chaturdashi. On that day, people celebrate the victory of Lord Krishna over Narakasura. It is the best preparation for Diwali with rangoli and firecrackers.
Lakhsmi and Kali Puja:
The third day is the main new moon day when Devi Laxmi is worshiped. People perform this day with firecrackers, feasts, and others. It is celebrated as Kali Puja in West Bengal and Assam. On this day, people mainly remember their ancestors with Diyas and candles.
Govardhan puja:
The fourth day of the event is the Govardhan puja. To this day, it is a myth that Lord Krishna had carried Govardhan hill for God Indra. In many provinces of India, people worship Lord Krishna on that day.
Vai duj:
On the last day, it is Vai duj. On this day, Devi Yamuna offers blessings to her brother, Yam, God of the death for his longevity. Keeping this in mind, all sisters provide their blessing to the brothers. It is performed with worshipping Gods, food parties, dessert making, and others.
The scientific background behind the Diwali celebration:
Still, such a pompous celebration is not only carried forward by myths only but there is a great contribution of science too. Diwali celebration is performed mainly on the eve of winter. This is the time when different viruses and bacteria start to germinate. Due to mutational aspects, in this cold environment bacterial or other germination rate becomes exponential. On Diwali, different types of Diyas, candles, and firecrackers create heat. It ruins the germ's growth.
But nowadays there is a discussion of pollution which may contradict this discussion. Firecrackers and the burning of so many crackers sometimes create both sound and air pollution. Already due to pollution, Earth has become warmer and global warming has become a great concern. To take an active step, governments from different states make Diwali-based firecrackers as banned activities.
Conclusion:
Excluding all of these mythology and science contradictions, we celebrate Diwali to explore our wisdom, honesty, and spirituality. With the warmth of Golden Diya lights, we rejuvenate our souls by removing all darkness. This time we invite friends, relatives, and others, offer parties and other activities. Women from all provinces keep fasting for the whole day of the puja to receive blessings and fulfill their long-cherished hopes to be fulfilled by offerings of Goddess Lakhsmi, Lord Krishna, etc. Above all, Diwali is popular among so many peoples that now Diwali celebration becomes the liberation from all bondage. In celebration of this Diwali, people can easily come to the stream of boundless happiness.